MISSION
Our mission is that we always listen the voice of our clients and comply with their requirement by 100 %.
We provide door to door service, utilizing our network that covers Japan, Asia, Oceania, the Africa and other countries.
Daishin Ltd uses NVOCC service to carry out general-purpose container transportation.? ????We provide such services as negotiating with the shipping company regarding freight rate and space availability and tracing in detail the movement of the cargo including confirmation of arrival and/or delivery of import/export cargo.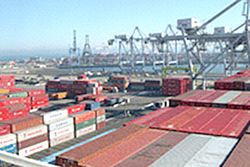 In addition to general-purpose container transportation, we are also capable of arranging for our clients specialized containers such as open top and flat rack, as well as loading them on ships.
We also provide conventional freighters transportation service regarding large-volume freight, extra-heavy freight, and plants.
We also provide efficient physical distribution service including paperwork for loading. ??
We coordinate the various stages of in-country work related to international shipments including arrangement of domestic dray and preparation of documents required for custom clearance such as invoice and packing list, contacting the customs broker and arranging for customs clearance.

Please inquire of us about any of your transport needs.
We can help you with handling even a heavy machinery or large sized
items and provide our best quarity serivce.
Also, We can provide the arrangement of domestic yard, domestic drayage,
Custom Clearance and Booking to Ocean carrier.
If you have a question for any transportation, please don't hesitate to contact us.